THE BENEFITS OF
ALUM STONE KALUNITE
™
Potassium alum stone has been known since time immemorial for its deodorant properties. It neutralizes odour-causing bacteria and regulates perspiration while allowing the skin to breathe normally. It is perfect for the most sensitive skins and is nowadays recognized as the best alternative to classic deodorants.
Its astringent and antiseptic properties have also made it an essential ingredient for barbers. The latter use it as an after-shave balm to soothe irritations and limit the appearance of pimples.

ALUM STONE
DEODORANT FREE OF ALUMINUM HYDROXIDE SULFATE.
Our natural Kalunite™ is approved by Ecocert Cosmos Natural as an active ingredient commonly used in many cosmetic formulas such as creams, shampoos, soaps, deodorants, after-shave.
The natural Kalunite™ alum stone  is characterized by its purity. It is an effective and natural deodorant free of aluminium hydroxide sulfate, It can be recognized by its marbled appearance.
POTASSIUM ALUM STONE 

AND HEALTH
Potassium alum stone (Kalunite™) is a 100% natural active ingredient that acts as an astringent, bactericide and deodorant, and not as an antiperspirant per se.
It regulates surface perspiration without clogging pores and eliminates bacteria that cause bad body odours.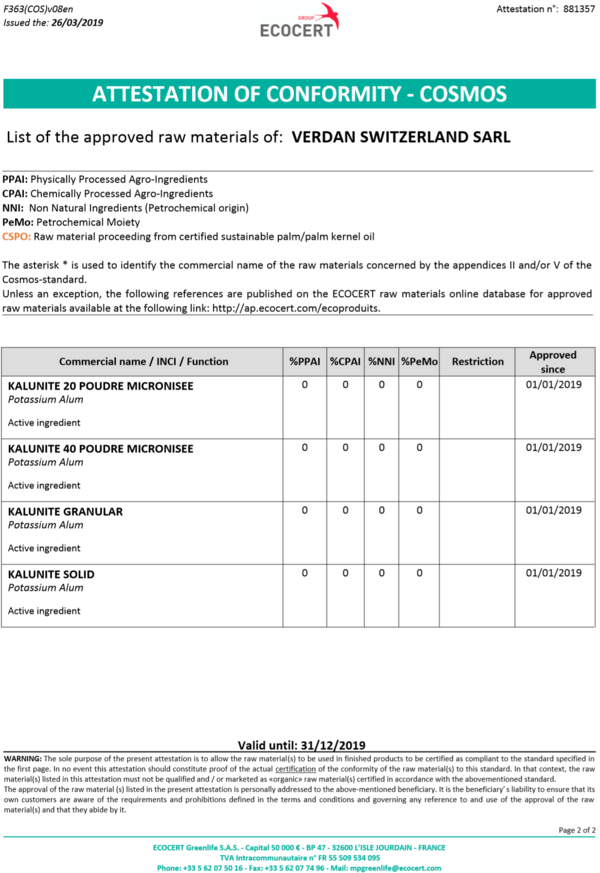 APPROVED RAW MATERIAL by ECOCERT COSMOS NATURAL

To guarantee a healthy and environmentally friendly cosmetic product, Verdan offers its raw material approved by Ecocert according to the Cosmos Natural standard.
The fundamental principles are as follows:
The use of ingredients from renewable resources and processed by environmentally friendly processes.
The absence of GMOs, parabens, phenoxyethanol, nanoparticles, silicone, PEG, perfumes and synthetic dyes.
Our raw material Kalunite™ Potassium alum is approved by Ecocert in all its forms. It also complies with ISO 16128 for natural ingredients.

Download the certification
Verdan
Switzerland

Sàrl

Neuenburgstr. 54
CH-3236 Gampelen / Switzerland

Copyright 2021